A Practical Guide To Understanding The Mobile Market Opportunity in Ireland
Seventy percent of online revenue in Ireland goes to a business abroad.  23% of Irish marketers say they are without a mobile marketing strategy (Marketing Institute of Ireland). Now while I don't subscribe to the concept of a 'mobile marketing strategy', marketers are not yet serving the needs of customers using mobile devices.
---
This market research is an example of market analysis done exclusively with readily available sources of marketing research data.
---
Marketers and business leaders; now is the time to inform yourself about the mobile web market opportunity.  Gain a share of the Irish Internet economy valued at 21.1 billion by 2020 (Amarach Research, 2014).
With over 60 stats and a gorgeous infographic use this research to easily understand your mobile web opportunity in Ireland.
---
Learn:
How big is the mobile web opportunity for Irish businesses?
With 4.7 million mobile phone subscriptions in Ireland the number of phones surpasses the number of people.  (The population is 4.6 million.)  Chatty as the Irish are, this is not unusual internationally.
Although some feature phones had the ability to use the Internet, the release of Apple's first SmartPhone put the "mobile web" into practice. Today there are 3.5 million SmartPhones in Ireland. A decent Irish market size!
SmartPhones And Mobile Internet Access
In order to use a SmartPhone on the Internet you need either a mobile 'data plan' or WiFi Access.  With the exception of streaming video, most WiFi networks have an unlimited amount of usage (measured in data).  Once connected you can surf to your heart's content.
From a market opportunity stand point, WiFi matter much more than mobile data plans.
94% switch off roaming when abroad, really? Capped roaming charges in Europe and WiFi is prevalent. Missing the point #openmobilesummit

— Lindsay Smith (@wapdat) May 19, 2014
This aspect has snuck up on business owners & marketers. The mobile internet, i.e. SmartPhones users with access to an internet connection via WiFi are everywhere; at work, at home, and on the go.
At Work; Irish People Use SmartPhones
For senior executives, smartphones are a critical business tool. The majority (92%) own a smartphone used for business.  In 2015 businesses supplied 672,922 SmartPhones to employees. And most organizations, particularly smaller ones, enable their employees to bring their own device to work.
In addition to the 1GM of SmartPhone data used, for years fixed broadband has been standard in 80+% of all businesses.  With broadband comes the potential for WiFi at work.
75% of Irish SME business mobile users are browsing the internet.  Google reports that 77% of business SmartPhone users researched a product or service for their business.  While some purchased using the phone (to a value up to €3,499), the vast majority (93%) go on to purchase that product using a laptop / desktop.
Business SmartPhones are not just for when you're out and about working. More than half use their SmartPhone at work (or college).  Looking up something in the middle of a meeting is common place.
And the vast majority also use their SmartPhone at home.
The Mobile Market Opportunity At Home
With three and half millions SmartPhones users in Ireland, it's not just the professional using SmartPhones at home.  Every day 35% of Irish children use their parents Smartphones.  3 out of 4 children use WiFi access only (Net Children Go Mobile).  69% of us share our home WiFi with family and friends who visit.
Three quarters of Irish households (1.2 million) have broadband WiFi (UPC / Amarach Research).  The availability of 'unlimited' changes the way we use SmartPhones too.  But we're not dependant on WiFi, increasing our SmartPhone data usage 4-fold over the last two years.
With WiFi, even video streaming is fun and easy!  We use our SmartPhones while watching that 'second device'; the TV.
77% of mobile searches occur at home or work; 60% of SmartPhone users who search go on to some kind of business conversion. Your prospects start by looking at product features, pricing and availability, and then crossover ending with a purchase in person or on laptop / desktop (Google).
Social Media accounts for a large amount of time.  Facebook usage has "dropped" to 89% amongst younger Irish adults.  We check email, listen to music, play games, read (including books) and shop.
With some of us cancelling the landline, our love affair with SmartPhones deepens.  We attached at the hip / handbag so to speak!
The Mobile Web Out & About In Ireland
Around the country, county councils, public libraries and private organizations are making WiFi ever more accessible. WiFi Cafe Spots in Galway is one such example for small and independant cafes.  UPC and EastPoint Business Park in Dublin worked together bringing free WiFi to EastPoint.  Their network usage peaks on sunny lunch times (surely a sign of quality of life improvement!).
Many transports organizations public and private (Irish Rail, airports, JJ Kavanagh's, Citylink, Dublin Bus, and more) as well as coffee shops, hotels and more provide free access to WiFi for their customers.  59% of SmartPhone owners searched while out and about; 4 out of 5 go on to some kind of business conversion such as visiting your shop in person or calling the business.
While commuting on Irish public transport at least half use a SmartPhone to catch up on news (60%), social media, to work (or study) 29% and to surf.  Next time you are on public transport, count the number of people using their phone.
And most of this WiFi is free.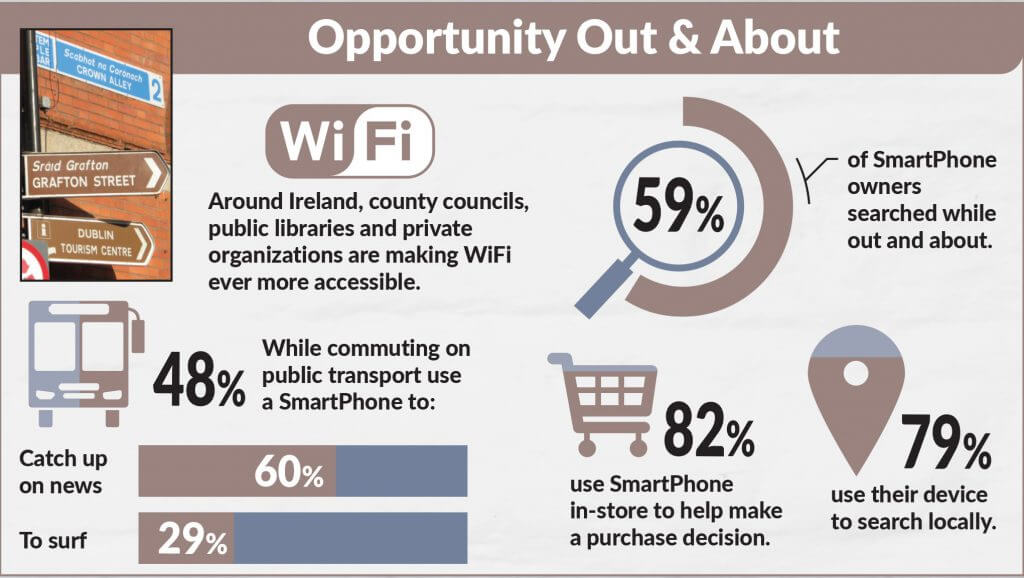 Use the list of statistics below to make the business case for investing in mobile or print out the infographic to provide hard facts to your business decision makers.
Additional Sources On The Mobile Market Opportunity
(Click the image for nice printable version of this infographic.)