Anyone who has ever asked a question of their audience knows the nerves associated with awaiting for someone to participate in your audience interaction.  I loved this video from the 2009 Sasquatch Music Festival when I first came across it.   So when Kelsey Libert put together this funny and informative article on viral spread, I started thinking about the similarities to building a tribe on social media.
Social media marketing starts with building a presence.  The second step is building a tribe of followers.   17% of those who follow brands, products and companies say they are "significantly more loyal" with an additional 36% "somewhat more loyal" (Edison Research survey of US social media users 12+).
Watch this tribe grow:
What is the 'First Follower' Phenomena?
Derek Sivers, who used the video in a Ted Talk, defines the first follower as; "what transforms the lone nut into a leader."  The 'first follower' phenomena is important for many roles in life from marketing and leadership to rounding up children in the playground.   Starting out on social media can feel like you are a 'lone nut'.
[Tweet "The first follower "transforms the lone nut into a leader" Derek Sivers"]
Part of understanding human (as against feline) psychology is figuring out your first followers.  Recently a fellow playground-parent shared the approach he takes with his "followers"; pick up the first follower / child, let's call her Emma, under your arm and leave the playground. The second child, Mairéad, is engaged and happily follows.
Finding Relevant Followers
[Tweet "Understanding your prospective customers is the heart of marketing"]
Understanding your prospective customer is essential to good marketing; I think of it as the heart of marketing.   Working with a template such as this customer persona template helps focus on customer concerns and how your offers fits into their context.
In customer persona development it is important to understand the responsibilities, pain points, information sources and the context of your prospects, first followers and influencers.  Then make identifying influencers part of your marketing plan.
Finding & Engaging First Followers
One of the great things about social media is that the psychological risk of 'following' is low.  No need for your followers to jump up and start waving their hands!  Some followers will be 'listeners' absorbing what social media has to offer. Others are more vocal; sharing, liking and commenting.  Either way your marketing materials must be relevant. Ask yourself; are you publishing content for your customer personas?  And are you engaging with your first followers?  First followers embolden others to join your tribe.
[Tweet "First followers embolden others to join your tribe."]
Conceptually building followers is similar to growing your email list.  Develop a plan to grow your tribe on those social network relevant for your customer personas.  Integrated marketing plans enable you to approach prospects holistically with offline and online activities designed to work in tandem.
Social Media Activities to Build Your Tribe
Similar to other marketing activities there are way to solve the same problem. Some ideas to build your social media tribe include;
joining LinkedIn groups
finding out what prospects are already pinning on Pinterest
setting up listening lists for topics relevant to your customer personas on Twitter
using hashtags to identify what pictures people are posting on Instagram
asking your Facebook first followers questions to refine your marketing content
answering questions and engaging with first followers (such as this sample Twitter conversation)
running contests with existing email lists to grow your followers
sharing case studies to build trust such as SynapSense did on Facebook
using targeted social media advertising
Identifying Influencers
The concept of content relevance goes double for finding influencers. Endorsing someone takes courage and a willingness to step forward.  As first followers embolden others, potential followers look to influencers for credibility and trust.  Identify influencers you respect.  A good sanity check is to ask yourself; would I share their content with my followers?  If the answer is yes, chances are they are a good fit for your target customer persona.
You'll benefit from followers with reach to your prospective tribe. Influencers should at least be on waving-terms with your customer persona.  Many social media networks, including Twitter, Facebook and Google+, display the number of followers/likes prominently to help you get a sense of reach.  There are a bunch of social media analytic tools for identifying those with influence such as Klout. Others such as Followerwonk include their own index for social authority.
Using a customer persona template make a list of influencers including, for example, journalists, commentators and researchers. In addition to the items on the template above include topics, reach and relevance as criteria.
Finding First Followers & Influencers To Build Your Tribe – Checklist
To summarize, here's the short list of questions to consider as you develop a plan to build your social media tribe:
Who are your potential followers / customer personas?
Which social networks do your prospects use?
Is your content relevant for your followers /customer personas?
How are you finding your followers i.e. prospects and influencers?
Are you engaging with first followers?
Who has reach to your potential followers?
Who has credibility with your potential followers?
Is your content relevant for influencers?
Where else are you already touching your potential followers e.g. events?
And finally a note on bravery and feline psychology
I think its worth noting that the nature of social media marketing is, well, social.  Many of the social networks offer the opportunity to reach followers and influencers directly.  When you're ready, i.e. when your content is ready, don't be afaird to reach out to influencers.  Similar to PR strategies, mid-tier influencers may have less reach but be more accessible.  A core underlying concept of social media marketing is that we are all people first and business people second.
With as many as 37% of marketers struggling with social media marketing, asking for help will make sense for some.  You're not alone and can get advice here.  Alternatively some marketers and business owners opt to listen in for a while to get the lay of the land.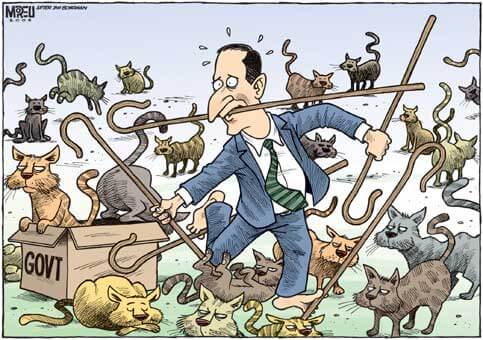 In the absences of first followers, you'll likely feel a little like a 'lone nut' until you get some momentum.  In the absences of first followers, engaging your prospects may feel a bit like herding cats.  While human psychology is difficult, it sure beats feline psychology!
 ***************************************
Join Jane's Social Media Tribe on Twitter